Greetings Friends!
As per usual, it has been a beautiful summer in sunny San Diego! The excitement from the fair is past us, but there is no slowing down as our city is full steam ahead with the busyness from the races. Location Matters isn't slowing down either, from holding our Opening Day Party to signing and listing more deals, we can't be stopped. Can't wait to share some of this excitement with you all – happy reading!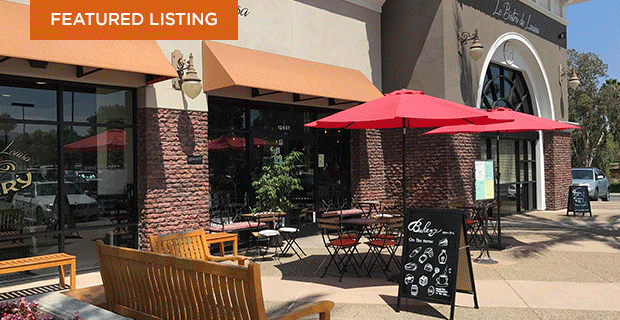 For Sale │ Rancho Bernardo Corner Restaurant



12457 Rancho Bernardo Road, San Diego, CA 92128

| | |
| --- | --- |
| | Price - $275,000 |
| | Newly renovated, fully fixturized restaurant with a bar, chef's kitchen, private dining space & beautiful patio, all immaculately maintained |
| | Convenient access to the nearby affluent communities of Poway, Rancho Bernardo, and Carmel Mountain Ranch |
| | Type 47 Full Liquor License available for purchase and transfer to new tenant |
| | High traffic location with 22,000 cars passing by daily |
| | Well suited for a variety of concepts in this highly underserved trade area for dining options |

Michael Spilky




(858) 792-5521


Email


Pholicious – Mercado Del Barrio
This has been a busy month at Shea Properties' Mercado Del Barrio, as Pholicious joins the ranks of tenants such as Partners Personnel and Barrio Bros, who are also in the process of moving into their new spaces! Pholicious dates back to 1965, when the family business began in Southern Vietnam. They pride themselves on serving delicious bowls of Pho in just five minutes. Marc Karren represented the landlord in this transaction.
Attitude Brewing – Mercado Del Barrio
An exciting new concept is coming to our city as Attitude Brewing Company will be another amazing addition to Barrio Logan! Attitude Brewing is San Diego's first cross cultural brewery. It will be a truly unique experience in atmosphere, brewing and food. Kurt Bach, the owner and operator, is eager to make his mark in the brewing community, and we are so thankful to be a part of it! Marc Karren represented the landlord and Mike Spilky represented the tenant in this lease.

Posh & Polished – Mercado Del Barrio
We are so happy that Posh & Polished is all settled in their new home at Shea Properties' project, Mercado Del Barrio! You may remember them from our May issue, as they had just signed their lease. Posh & Polished gives a new meaning to getting pampered, to say the least. Their business is equipped with comfortable seating, ambient lighting and a glass of wine by your side. Congrats on the opening Posh & Polished! Marc Karren represented both the tenant and landlord in this transaction.

Our Opening Day Party went off without a hitch! The day was full of lots of yummy food and drinks to prepare everyone for more festivities down the street at the race track. We loved throwing the party, not just for a chance to take a break from the office, but for the chance to see many of our wonderful clients and colleagues. A special thank you to all of our amazing sponsors – Southland EDC, Chase Bank, Brand Capital Marketing, Heritage Escrow, Level 3 Construction, Cohn Reznick, Alcott Insurance Agency, and Flores Financial Services!
Location Matters attended Brixton Capital's Open House Party, where we were able to enjoy their beautiful new ocean front office. We had a great time mingling with all of our friends there – can't wait for the next get together!

Don't forget to follow us!

The Future 50
Over the dozen years that Restaurant Business has presented the Future 50, simple, easy-to-understand food—pizza, tacos—has dominated the list of fastest-growing small concepts. This year, new cuisines are rising to the top, signaling increasing acceptance of different ingredients, flavors and formats…

Read more →
Retail Has A Market Definition Problem
In 1960, Theodore Levitt wrote "Marketing Myopia" for the Harvard Business Review. He dissected the decline of the railroad industry, placing the blame fully on the industry itself, for not having the vision to see the customer problem they were truly solving: People want to move themselves or products from one place to another cheaply and fast and as safely as possible…

Read more →
This email was sent to you from



Location Matters
2010 Jimmy Durante Blvd., Ste 205, Del Mar, CA 92014
(858) 792-5521