Greetings Friends!
We blinked and just like that another month has passed and August is here! There is no slowing down for our team however, as we are keeping busy signing and listing new and exciting restaurant and retail deals. As our city continues to rapidly change and creatively develop, we remain focused on staying ahead of the curve and thinking outside the box so that we can deliver the highest level of service to our clients. Read on to see a glimpse of what we've been cooking here at headquarters. Happy reading!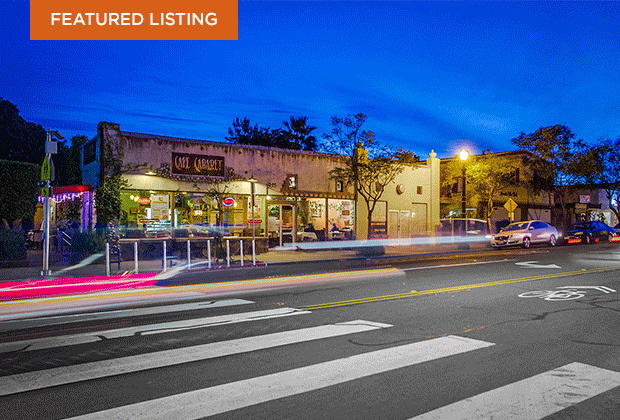 For Lease │ Normal Heights/Kensington Restaurant & Retail Space



3735-3739 Adams Ave., San Diego, CA 92116

Restaurant Unit: 2,058 SF + Patio
Retail Unit: 923 SF
Combined Space: 2,981 SF + Patio
Fully fixturized restaurant with newer hood, high ceilings, and

NO key money

Beer & Wine use or Full Liquor OK
Incredible opportunity to be on Adams Ave., one of Uptown's main drags
Highly visible corner location with a large patio
Centrally located on Adams Avenue, with a strong draw from both the Normal Heights and Kensington communities

Michael Spilky




(858) 792-5521


Email


One of Gaslamp's most beloved restaurants and bars is now under new ownership! Brian's 24 is known as the restaurant that never sleeps, staying open 24 hours a day, 7 days a week. Brian ran the restaurant alongside his family since 2008 and after 10 amazing years in business, the family decided to take a well-deserved break from the restaurant industry. Luckily, the new owner plans to keep the integrity and charm of Brian's 24 intact! Mike Spilky represented the Buyer and Seller in this transaction.

Cowboy Chicken – 4S Ranch
Cowboy Chicken has officially opened their first San Diego location in Regency Centers' 4S Commons Town Center! They've been cooking wood fire rotisserie chicken since 1981 and many are jumping for joy as they learn that this Texas-based brand is set to continue to expand throughout our neighborhoods. With this location under our belts, we continue the search for additional prime sites for this growing fast-casual concept. Mike Spilky represented the tenant in this transaction.

See Site Requirements →
Congrats to our friends over at Tanuki for opening the doors to their first restaurant, where the Kensington community is welcoming them with open arms! This all-star concept comes from the former chef of San Diego's Nobu – a coffee bar by day and sake bar by night. Their menu features over 100 selections of sake, syphon coffee made table side, a variety of sushi options made by the master chef or the option of "make your own hand roll", and so much more. Mike Spilky represented the tenant in this transaction.

7th Annual Location Matters Opening Day Party
We had another amazing year throwing our 7th Annual Opening Day Party! A day full of tasty food and drinks and, of course, amazing colleagues and clients is always the best type of day in our book. A special thank you to all our amazing sponsors – Southland EDC, Chase Bank, Brand Capital Marketing, Heritage Escrow, Cohn Reznick, Level 3 Construction, SDCR, Flores Financial Services, Noble Construction and Liberty Call Distilling, as well as our raffle donors, who helped us raise funds to benefit Feeding San Diego – Burger Lounge, West Steak and Seafood, Tazz Lighting, and Dining Out SD!
The Location Matters team took a group outing and surrounded ourselves with what we like best – San Diego restaurants! Pretending to be tourists in our beloved town, we learned a ton of quirky facts about the history of the Gaslamp Quarter and got to try a bunch of yummy food and drinks at a variety of Gaslamp restaurants.

Don't forget to follow us!

Traditional Restaurant Chains Launch Fast-Casual Concepts to Lure Millennials
Many are in testing stages, trying to find the right size in the right market as they compete in a crowded sector.

Some well-established,casual-dining chains are rolling out more modern, fast-casual concepts to try to attract younger diners.They include Cracker Barrel, Tony Roma's, Hooters and Denny's…

Read more →
Is San Diego the New San Francisco? Why CRE Investors Should Keep an Eye on the City
It may only be a matter of time before San Diego's rapidly expanding tech sector develops into Southern California's answer to Silicon Valley…

Read more →
This email was sent to you from



Location Matters
2010 Jimmy Durante Blvd., Ste 205, Del Mar, CA 92014
(858) 792-5521