Greetings Friends!
The busiest season of the year is upon us as we experience the hustle and bustle of the holidays mixed in with the final push to wrap up all our pending deals. 'Tis the Season to be Jolly and all that joy in the air keeps us all in high spirits to work our hardest before this year comes to a close. Here are some highlights of how Location Matters is finishing 2017 strong – happy reading!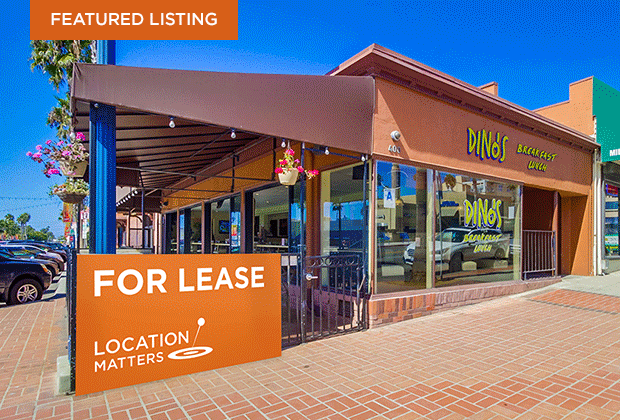 For Lease │ Turnkey Corner Restaurant Space in Oceanside



400 Mission Ave., Oceanside, CA 92054

| | |
| --- | --- |
| | 2,400 SF + 410 SF patio |
| | Type 41 License and CUP are available |
| | Fully fixturized – All FF&E is included in the lease rate |
| | Situated on the most visible corner in the heart of Downtown Oceanside, west of Coast Highway |
| | Short walking distance to restaurants, retail, train station, Regal Cinema and only 2 blocks from the beach and pier |

Marc Karren




(760) 803-5363


Email


After a solid run in Hillcrest, Spitz Mediterranean Street Food has closed their doors…but through those doors enters a unique new restaurant – 5th Ave Kitchen & Tap. The buyer, Ron Crilley, who also owns The Kraken in Cardiff and OC Tavern in San Clemente is excited to unveil his hottest new concept. His plans are to convert the restaurant into a fun bistro style sports bar where he can integrate the indoor and outdoor spaces and utilize the striking patio space. The menu offerings will be made from scratch and will feature dishes brought from the heart of New Orleans. Mike Spilky represented the seller and buyer in this transaction.
Following our sale of the Slater's 50/50 brand and six locations late last year to Elite Restaurant Group, we are now happy to announce the individual sale of the Slater's 50/50 Rancho Cucamonga location to Bacon-Up Corporation. While ownership has changed hands, this popular burger joint will still remain the same beloved restaurant. The owner of the remaining stores plans to continue to franchise and expand the Slater's 50/50 brand nationwide. Mike Spilky represented the seller and buyer in this transaction.

Visit website →

After tremendous success at their first location in Auburn, Washington, Gor Gai Thai has opened their second store in our very own backyard at Shea Properties' Del Sur Town Center! The owners pride themselves on serving authentic Thai food that never fails to taste delicious with all the bold flavors Thailand has to offer. With such passion for their food, it comes as no surprise that Gor Gai Thai has been welcomed with open arms by the Del Sur community, as they join the ranks of Piacere Mio, Burger Lounge, Waypoint Public, and more. Mike Spilky represented the landlord and the tenant in this transaction.

View website →

Our City: Commercial Real Estate Forecast
Location Matters attended Our City San Diego's Real Estate Forecast. The morning was well spent discussing the direction in which the commercial real estate market is heading as we approach the new year. We are excited to be a part of the changes to come!
CohnReznick and Flores Financial Services Hospitality Roundtable
A big thanks to CohnReznick and Flores Financial Services for hosting their Hospitality Roundtable at Ballast Point Brewery and updating us on tax reform and new laws related to the hospitality industry.

Don't forget to follow us!

Five Considerations to Make Before Committing to a Restaurant Location
The restaurant location you choose represents the single largest, long-term, fixed-cost obligation of the business. Within the operating spectrum of your new restaurant you can make many choices involving your variable costs. Although once you've locked yourself into a location your choices become slim. You are betting everything on this single decision. You are fixing a position in the universe through which you believe customers will find and sustain your restaurant. It won't move--unless you are planning on opening a food truck…

Read more →
Food Halls Help Urban Retail Landlords Maintain Competitive Edge
Food halls are considered the newest and hottest way to combine dining, entertainment and even locally sustainable eating in one place.

More than one third of consumers, 34 percent surveyed in a recent AlixPartners study, said they look forward to dining out more often in the next 12 months, according to the research firm's November 2017 update on the sector. That sounds like encouraging news for landlords around the country who are rapidly expanding food halls in urban shopping districts…

Read more →

This email was sent to you from



Location Matters
2010 Jimmy Durante Blvd., Ste 205, Del Mar, CA 92014
(858) 792-5521