Greetings Friends!
Welcome to Summer in beautiful San Diego! June gloom is now behind us and we can finally enjoy the nice warm weather and sunny skies we are all so accustomed to. It's a busy time for our town, with flocks of tourists invading our neighborhoods, providing a nice little boost to our restaurants and retail shops, which we welcome with open arms. With the first half of the year already complete, we are excited for new business to come and look forward to sharing some highlights with you – happy reading!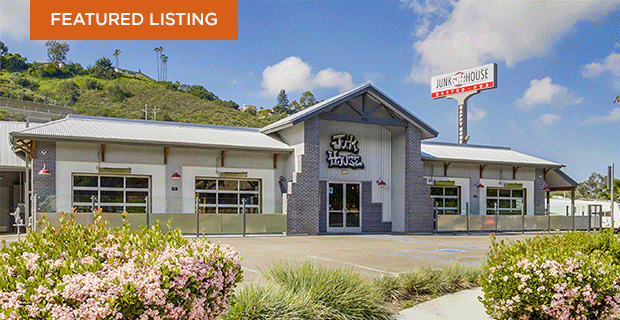 For Sale │ Freestanding Restaurant Owner-User or Investment Opportunity



5351 Adobe Falls Rd., San Diego, CA 92120

| | |
| --- | --- |
| | Price - $1,795,000 |
| | Incredible opportunity to acquire a new, fixturized restaurant property. |
| | Suitable for an Owner-User seeking to own vs. lease, or an Investor looking to add value through lease-up of the property. |
| | Type 47 Full Liquor License available for purchase and transfer to new tenant. |
| | Large lot with abundant parking, including 42 surface spaces. |
| | Large patio space with four roll up garage doors installed. |

Michael Spilky




(858) 792-5521


Email


Partners Personnel – Mercado Del Barrio
Another space filled at Shea Properties' Mercado Del Barrio in Barrio Logan! Partners Personnel, a subsidiary of Butler Staffing, is a staffing agency that will be occupying just under 1,900 square feet. Their plans are to open as soon as possible as this location is a perfect fit for their recruiting business. And with all the leasing activity we are experiencing, we are well under way to seeing Mercado completely full! Marc Karren represented the landlord and Laura Lugo Wistner with Wistner Properties represented the tenant in this lease.

butler.com/staffing →

Hundred Proof – Hillcrest
If you haven't heard the buzz revolving around the opening of this new spot, we will happily fill you in. From the owners of the thriving Trust Restaurant on Park Blvd., Steven Schwob and Brad Wise, comes a new cocktail bar named Hundred Proof. Taking over the space once occupied by S&M Sausage & Meat at 4130 Park Blvd., this highly anticipated project opened on June 27. The drink menu includes boilermakers, craft cocktails, spiked milkshakes, and more, not to mention an elevated selection of bar food. This is one place you won't want to miss. Mike Spilky represented the seller and buyer in this transaction.

Read more on San Diego Eater →

Rolled Up / Crackheads – The HUB Hillcrest
Back in September of last year, we announced that Rolled Up / Crackheads had taken over the last restaurant space at the Hub Hillcrest Market and we are now just weeks away from their doors opening to the public. The Giant Sushi Roll concept, layered with a twist that includes gourmet breakfast sandwiches and a cereal bar will definitely hit the spot for many of us. This is just another example of owner James Markham's ability to craft the best of concepts, including drive-through pizza, which we reported on just a few months back. Mike Spilky represented the landlord and tenant in this lease.

rolledup.com →
Crackheads menu →
Read more on San Diego Eater →

As we do every year, Location Matters attended the California Restaurant Association – San Diego Chapter's 33rd annual Gold Medallion Awards Banquet & Auction. The event honors worthy and exceptional restaurants and industry partners in the region and was held at Town & Country Resort.

Don't forget to follow us!

Is Retail Really 'F*cked'? 28 Global CRE Leaders Speak Out
The refrain of doomsday headlines is endless: "Retail Is Dead," "Inside The Retail Apocalypse," "Is Retail Coming Back From The Dead?" "The Retail Bloodbath Continues" and our favorite, "Retail Is F*cked." To be sure, brick-and-mortar retail is in the throes of a seismic shift fueled by the rise of e-commerce and the changing needs of modern shoppers who demand a fresh experience — and need a very good reason to power down their computers…

Read more →
The End of the Restaurant As You Know It
Just like Uber and Airbnb, foodies are joining the sharing economy with communal venues packed with multiple dining, drinking, and even sleeping options…

Read more →
This email was sent to you from



Location Matters
2010 Jimmy Durante Blvd., Ste 205, Del Mar, CA 92014
(858) 792-5521