Greetings Friends!
Now that Summer has come to a close we are determined to finish this last quarter of the year with a bang. The office has been extra busy this month acquiring many new and enthralling listings. It puts us all in just the right mindset to make the most of it and put our nose to the grindstone. Read on for a glimpse of what's on the horizon for the Location Matters team. Happy reading!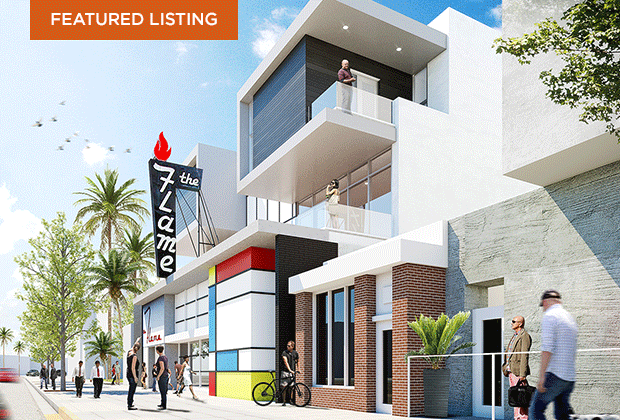 Back on the Market │ Cocktail Bar with Type 48 Liquor License for Lease in Hillcrest



3780 Park Blvd., San Diego, CA 92103

| | |
| --- | --- |
| | 2,057 SF |
| | Currently under construction |
| | Highly visible space on the major thoroughfare of Park Boulevard and just around the corner from iconic University Avenue in Hillcrest |
| | Steps away from the new mixed-use building, Mr. Robinson, designed by acclaimed architect Jonathon Segal |
| | Immediate freeway access to Interstate 805 and close to Interstates 5, 8, and 15 |
| | Centrally located and in close proximity to Bankers Hills, Balboa Park, San Diego Zoo, Downtown, Mission Hills, and San Diego International Airport |

Michael Spilky




(858) 792-5521


Email


Simon Says Coffee – Hillcrest
This month, Location Matters completed the leasing of the space once occupied by The Kouch, a coffee concept located at 3852 4th Ave. in Hillcrest. The lucky takers on this one are Simon Says Coffee, which you may already recognize from their original location in Downtown San Diego. The owners plan to rebrand the store as The Kouch by Simon Says Coffee, serving acai bowls, loose leaf teas, paninis and of course their signature Stumptown coffee. Mike Spilky represented the landlord and tenant in this transaction.
2212 Carmel Valley Road – Del Mar
Carmel Valley Road is about to get that much cooler with a surprise tenant inking a lease at 2212 Carmel Valley Road. The identity of this new tenant will remain hush-hush for now, but we can assure you they are guaranteed to attract large crowds to the area once they open. With only one other space remaining in this new development, we continue to search for the perfect fit! Mike Spilky represented the landlord and Marc Karren represented the tenant in this transaction.
Partners Personnel – Mercado Del Barrio
So much action has come from Shea Properties' Mercado Del Barrio so far and there is no slowing down. Back in July, we announced that Partners Personnel had signed a lease for a 1,900 square-foot space at the project. We are now pleased to announce they are officially open for business! Partners Personnel is a staffing agency that prides themselves on getting to know each of their candidates beyond simply their resume. Marc Karren represented the landlord and Laura Lugo Wistner with Wistner Properties represented the tenant in this lease.

San Diego's Big Retail Push Into 2019
Mike Spilky was invited to contribute the Market Highlight article addressing San Diego's retail scene for France Media's Western Real Estate Business' September 2017 issue. In his article, Mike states that retail construction and entitlements are at new all-time highs, but will some San Diego trade areas go from underserved to over-retailed?

Read the full article →
Local Restaurants Are Expanding on Their Culinary Successes
The San Diego Business Journal covered one of our recent lease transactions in their September 2017 issue. This particular high profile deal was signed with Haru Mama for the restaurant space located at 1901 Columbia St. in Little Italy. Location Matters exclusively represented the landlord and tenant in this new 10-year lease valued at $1,395,338.

Read the full article →

California Restaurant Association Membership Meeting
Thank you California Restaurant Association for hosting last month's CRA Membership Meeting. It's always an honor to be in the company of so many remarkable people who continuously help shape San Diego's booming restaurant industry.

Don't forget to follow us!

The Art of Selling a Restaurant
It takes the right buyer at the right price in the right situation. And that's just the beginning.

Selling a long-standing restaurant is no easy task. Take Merle Borenstein, who opened Armadillo's Bar & Grill, a Southwestern eatery, in the then edgy Rondout area of Kingston, New York, in 1988, about 90 miles north of New York City. Or Ric Orlando and his wife Liz Corrado, who operate the New World Home Cooking, which has thrived since 1993, in nearby Saugerties…

Read more →
Fast-casual expansion pushes lease rates higher
Surge in growing concepts leads to a rush for top sites

.



Perry Jones is vice president of real estate for Dallas-based Rave Restaurant Group. It's his job to find locations for the growing, 87-unit fast-casual pizza chain Pie Five. The problem is, there are many others out there like him. 

Read more →
This email was sent to you from



Location Matters
2010 Jimmy Durante Blvd., Ste 205, Del Mar, CA 92014
(858) 792-5521