Greetings Friends!
2017 is well underway and we've started the year with a bang! We're busier than ever, working hard to bring you the latest in restaurant, retail and commercial property leasing and sales. Read on to hear about our most recent transactions, successes and upcoming industry news. Here's wishing you all the best in the year to come - happy reading, friends!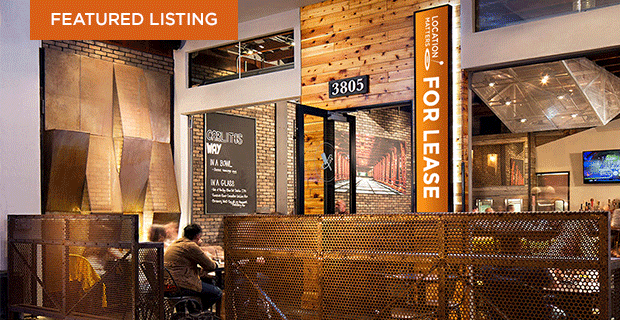 For Lease │ Hillcrest Restaurant Space



3805 5th Ave., San Diego, CA 92103

| | |
| --- | --- |
| | 2,218 SF + Patio |
| | Fully fixturized and turnkey kitchen with large walk-in, hood, grease trap, prep tables and more |
| | Large, built out U-bar with all fixtures and equipment intact |
| | Great covered patio with two roll up garage doors installed |
| | Type 47 Liquor License can be made available and easily transferred to new tenant |
| | Adjacent to high volume Starbucks |
| | High traffic location on 5th Ave. with 13,000 cars passing by daily |

Michael Spilky




(858) 792-5521


Email


1004 S. Santa Fe Avenue – Vista
Another successful investment sale under our belts! As the property's third listing broker, we recently sold the freestanding drive-thru property in Vista for $1,200,000 to a 100-unit Jack in the Box franchisee. Located in a commercial pocket of northern San Diego County, the 2,343 square foot property included a 600 foot basement sitting on a large 18,459 square foot parcel. Mike Spilky represented the seller in this transaction.
606 Cassidy Street – Oceanside
This rare coastal gem in South Oceanside recently sold for $800,000. Beautifully maintained on the corner of Cassidy Street, just one block off of S. Coast Hwy., the 6,034 square foot parcel included a 2,314 square foot building fully leased to four retail tenants. Longtime tenants, A Touch of Elegance, Starting Time, HomeSmart and Jes Tax will continue to operate out of their spaces under the new ownership. Marc Karren represented the seller in this transaction.

2833 State Street – Carlsbad
The downtown Carlsbad Village community will be excited to learn that Shorehouse Kitchen will soon be joining the impressive lineup of nearby tenants along State Street, including Campfire, Carruth Cellars and Barrel Republic. Situated on the corner of State Street and Grand Avenue, the 1,850 square foot (and up to 2,000 square foot patio) restaurant space is set to undergo extensive construction. Mike Spilky represented the Landlord and Tenant in this transaction.

shorehousekitchen.com →

Wonderful and Wild – Hillcrest
Following tremendous success in their Adams Ave. location, Wonderful and Wild (formerly Buddha Baby) owners Brianna Fanelli (pictured with our own Marc Karren) and Ken den Bleyker recently opened their much needed expanded location at 1007 University Ave. in Hillcrest. Wonderful and Wild is San Diego's premier natural parenting resource and store offering everything from organic clothing to parenthood classes. Wishing them much continued success! Marc Karren represented the Landlord and Tenant in this transaction.

Wonderful and Wild on Yelp →

ICSC Southern California Idea Exchange
Meet up with us at the upcoming ICSC Southern California Idea Exchange in Los Angeles on February 1. We are signed up for a Deal Making table, 2:00 – 4:30 pm; we look forward to seeing some of you there!

Schedule a meeting now →

Location Matters Welcomes a New Addition!
Mike and Limor Spilky welcomed their second child, a baby boy named David Micah Spilky on Thursday, January 19 weighing 6 lbs. 12 oz. and measuring 20 inches long. Big sister Kayla is loving every minute with her new brother. Congratulations Mike and Limor!

Don't forget to follow us!

Food Halls, Experiences Lead Retail Trends for 2017
In retail, nothing remains the same for long. A century ago, America saw the rise of mega department stores as category killers. In the middle of the 20th Century, regional malls were beginning their rise. That was followed by the power centers and lifesyle centers of 1990s and 2000s. Today, experience is the name of the game; consumers would rather spend time doing what they enjoy than shopping for common goods…

Read more →
The Way You Shop Will Change Forever This Year. Here's How
Online shopping has now reached a decade of maturity. We all use services like Amazon Subscribe & Save—and we do so through our phones, following advertisements we see on Facebook…

Read more →
This email was sent to you from



Location Matters
2010 Jimmy Durante Blvd., Ste 205, Del Mar, CA 92014
(858) 792-5521