Greetings Friends!
All we can say about 2019 so far is: busy, busy, busy! With this new year kicked off it seems like everyone is eager to start new ventures, open unique restaurants and retail shops, and expand on their current business. We for one are welcoming all this action with wide open arms. Here is just a peak at some of the exciting activity we've been experiencing thus far – happy reading!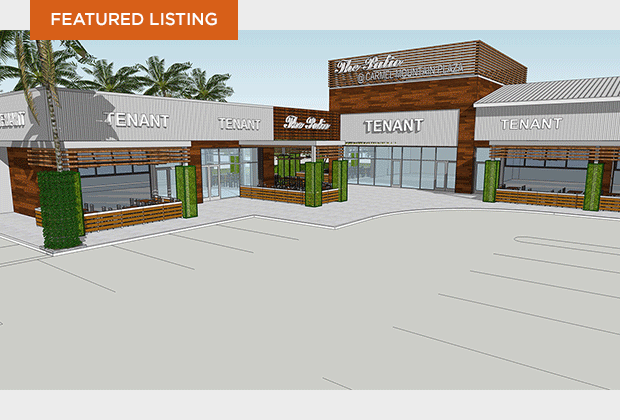 For Lease │ Multiple High Traffic Restaurant Spaces in Carmel Mountain Ranch



12384 Carmel Mountain Rd., San Diego, CA 92128

| | |
| --- | --- |
| | 1,000 - 2,200 SF + Patio |
| | Phenomenal opportunity to get into brand new restaurant space in Carmel Mountain Ranch's most active shopping center |
| | Highly desirable hard corner location on a busy intersection |
| | Extremely strong restaurant trade area with high sales volumes from neighboring restaurants |
| | Surrounded by national retail tenants and a high volume Costco bringing in a large regional draw |

Michael Spilky




(858) 792-5521


Email


Del Sur Town Center is officially all leased up! Swami's Cafe took the last remaining space available and will be catering to the many Del Sur residents that have been begging for a great breakfast spot in their neighborhood. With Swami's joining the mix of amazing tenants such as Piacere Mio, Burger Lounge, Ototo Sushi, Gor Gai Thai, and more, Del Sur has truly become a restaurant hot spot. Kuddos to Shea Properties for staying ahead of the curve and wanting only the best local, emerging restaurant tenants, it has been fantastic working with you! Mike Spilky represented the Landlord and Tenant.

Read more →
Social Syndicate – Del Mar
Del Mar Plaza is the proud new home to one of San Diego's ultimate restaurant development groups, Social Syndicate, the talent behind The Local Eatery and Drinking Hole, The Rabbit Hole, Wonderland Ocean Pub, and more. They are going to be bringing some serious cool to the center as they are currently cooking up an exciting new beer garden/restaurant concept that the community is sure to love. Stay on the edge of your seat, this is just the first of many exciting deals Location Matters is bringing to Del Mar Plaza. Mike Spilky represented the Landlord and Tenant.

Read more →

Cruiser Taco – North Park
Another business sale closed! While the North Park community will miss Cruiser Taco, they have a lot in store for them as Medina gears up to open for business, bringing a taste of Morocco and Baja California to El Cajon Blvd. The new owner, Alia Jaziri, grew up learning to cook North African and Mediterranean cuisines from her parents who called North Africa and Indonesia home. With inspiration from her cultural upbringing, this unique concept is going to be one for the books. Mike Spilky represented the Seller and Buyer.

Read more →

Attitude Brewing Company Friends & Family Night
Attitude Brewing's Friends and Family Night was a hit as they unveiled their new dinner menu to pair with their beer that has been the big talk at Mercado Del Barrio. Congrats on all their continued success!

Don't forget to follow us!

CRE Investors Can Still Profit from Retail Real Estate—If They Stick with Service-Oriented Tenants
Stores selling goods and services that can't be purchased online are the best bets for retail real estate investment this year.

The high probability of more interest rate increases by the Federal Reserve, and other developments—ranging from geopolitical uncertainty, U.S. political gridlock and U.S.-China trade friction to sliding stock market performance—that made headlines during the recently holiday season are continuing to do so this year...

Read more →
Why Restaurants are Turning to Retail to Boost Sales
Restaurants with added marketplaces are providing guests with additional value points that lead to additional sales that boost the business's bottom line.

The concept of retail operations within restaurants isn't a new idea. Think Planet Hollywood, Hard Rock Café, and Joe's Crab Shack, where exiting through the gift shop and picking up a few trinkets for souvenirs is the norm. But newer concepts are offering thoughtfully curated retail selections with a refreshing, thoughtful feel…

Read more →

This email was sent to you from



Location Matters
8910 University Center Lane, Suite 400, San Diego, CA 92122
(858) 792-5521